Cheness Specialty Series
9260 Kissaki Moroha Tanto
Name
Cheness Kissaki Moroha Tanto
Blade
9260 Silicon Alloy Carbon Spring Steel with Moroha kissaki.
Overall Length (+ Saya)
17.5"
Treatment
Full Hand Forged, Through Tempered, Oil Quenched, Hand Polished
Finish
Tameshigiri Polish
Blade Dimension
10.5" Length, 0.3" Width, 1.25" Height
Tsuba/Fuchi/Kashira
Steel tsuba with alloy fittings.
Tsuka/Ho
5.5" Wood
Tsuka Ito
Black Cotton
Mekugi
1 X Brass
Same
White Real Ray Skin Panel Wrap
---
There are many pictures and may take some time to load - Please be patient
This is our second version production run of our Tanto. There had been several requests for us to make a production tanto over time, and we went through several rounds of prototyping as a response. The original release date of the tanto had been pushed back several months through several revisions until now.
This tanto is a bit unique in the sense that it utilizes a true moroha kissaki. We wanted to make something that is not as readily available elsewhere and to set ourselves apart. Cross section of the forward half of this blade is a diamond shape and feels extraordinarily light because of it.
The tanto uses a through hardened 9260 Spring steel as material, and uses the standard fitting dimensions. If this series of blades become popular, we will develop more customized components at a later date. The current configuration lends itself to match the Tenchi, Oniyuri, and the Kaze series welll.
Below are photos showing the overall apparence of the sword.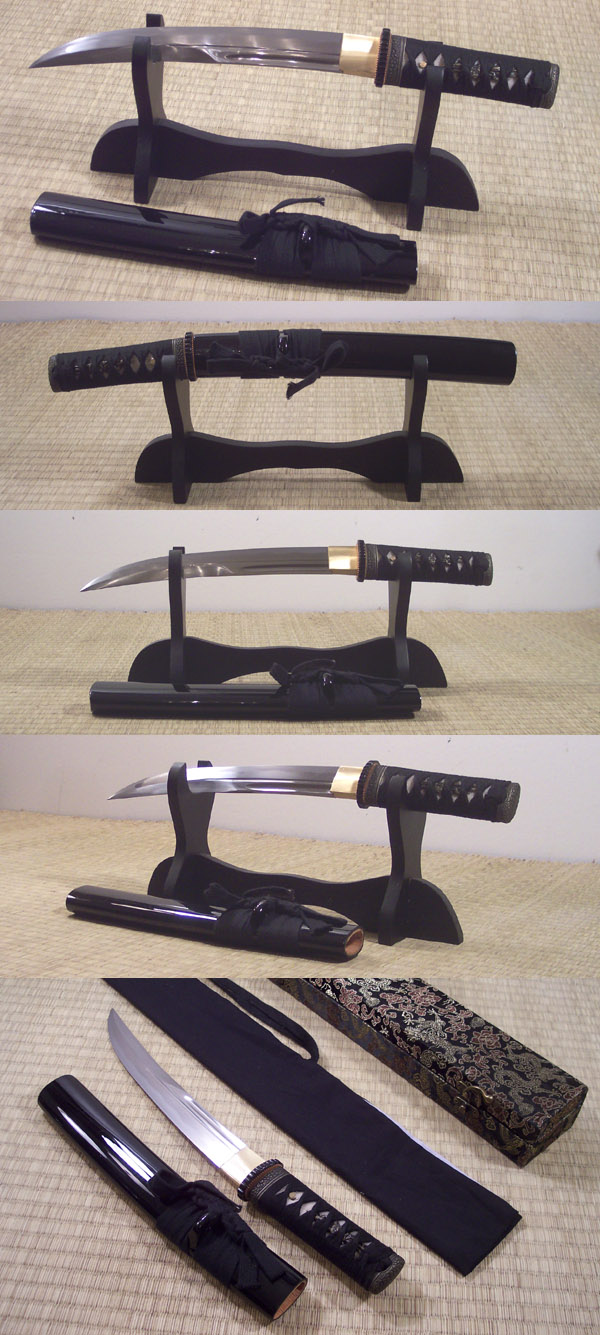 The tsuka is wrapped with a real same panel wrap, and a black cotton ito wrap. The tsuba is a steel construction.
In the v2 moroha kissaki, the rear surface on the forward half of the sword is smoothed out instead of being sharpened as in the original version. This is so that practice can be conducted safely if the hand comes into contact with the mune of the blade when using this tanto.
We will continue to make minor modifications, refinements to this blade until we become more accustomed to its production. As a first run, there may or may not be any portion of the blade that can use more refining.... However, we have lowered the price accordingly for this batch. Subsequent runs will increase in cost by $30 USD. In addition, once we develop a more custom set of fittings for it, the price would also adjust accordingly .

The final photo is added in order to provide a size reference for the tanto as it would be handled in iaido katas.
Feedbacks welcome and will be consolidated and reviewed as a group prior to production of subsequent runs. Individual responses will not be issued.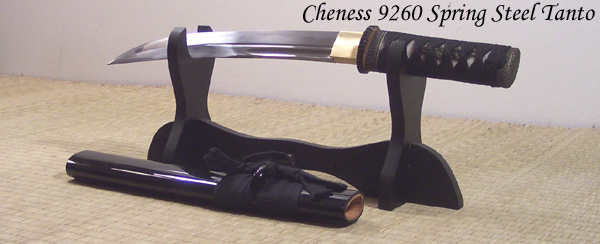 New Item - Cheness 9260 Kissaki Moroha Tanto (v.2)
Sale Price: $149.99
Regular Price: $299.99

The "Shosen" (First Battle) katana is a trial run katana using our newest design concept of a double bo-hi. It is hoped that this configuration will have a better weight distribution for use during iaido katas or tameshigiri practices. This sword is sharpened to allow for cutting exercises.
The v.2 includes edits based on feedbacks, in particular to the mune finish so that there is no risk of cutting the web of palm during noto.
Cheness 9260 Kissaki Moroha Tanto v2
IN STOCK NOW!