1045 Delux Wakizashi Iaito.
Name
"Delux Wakizashi Iaito"
Blade
1045 Through Hardened Carbon Steel, Hand Polished, Unsharpened.
Treatment
Hand Heat Forged, Oil Quenched
Finish
Tameshigiri Polish
Blade Length (Nagasa)
18"
Weight (No Saya)
Approx. 1 lbs 2 oz
Tsuba/Fuchi/Kashira
Blackened Steel Shura tsuba set
Balance Point
4.5" Above Tsuba
Tsuka/Ho
6.5" Wood with Brown Wrap
Same
Real Black Ray Skin Panel Wrap
Saya
Black Glossy Lacquered Medium Hardwood
Seppa/Habaki
Brass
Edge
Not Sharpened
Please be patient - There are many pictures and may take some time to load - Please be patient
This is a matching carbon steel iaito in wakizashi length for our Delux version Iaito. 18" blade length and 6.5" tsuka length.
It is constructed in exactly the same way a carbon steel katana is... only blunted on the cutting edge. Hand forged, hand polished, full length nakago (tang), double mekugi (retaining pin). Perfect for those that want to practice kata using an iaito with the weight of a katana.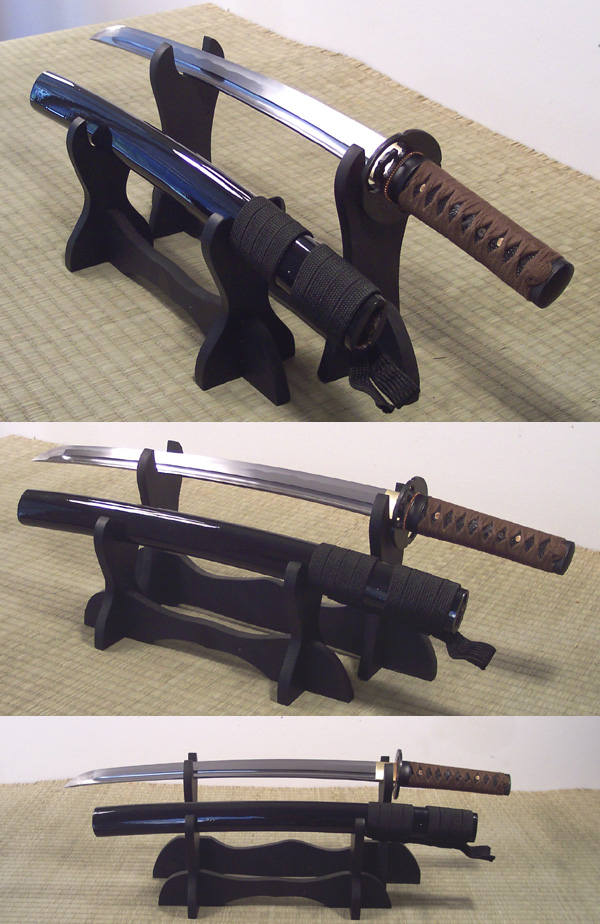 This is a 1045 carbon steel blade so maintanence is identical to that of a regular katana.
Blade geometry, bo-hi, and even the etched hamon resemble a standard katana. The last photo is a head on shot of the edge and is meant to illustrate the blunted edge. (Though blunted to reduce the risks of injuries, this sword can still be dangerous and should be handled as if it a live blade).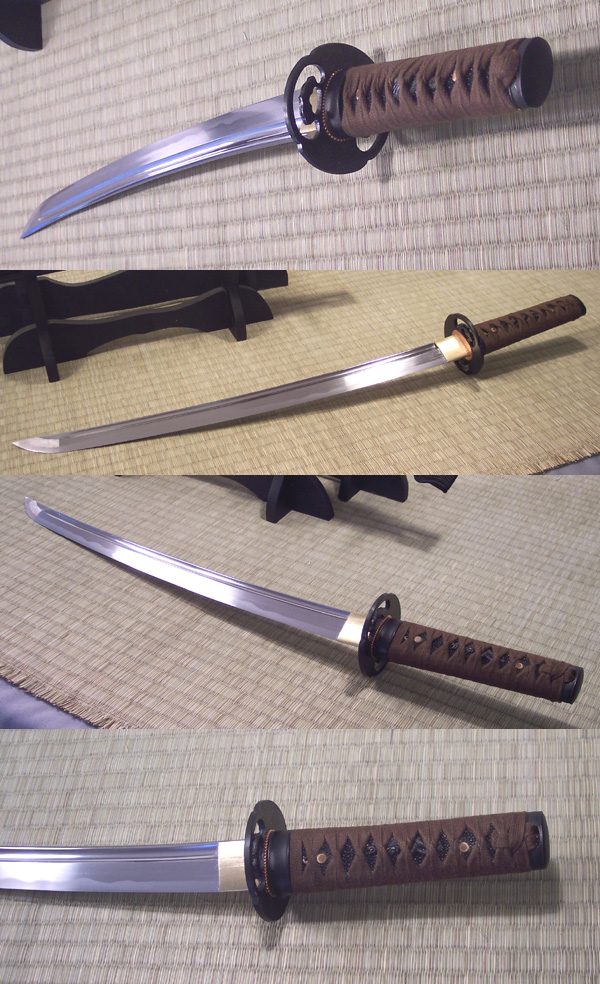 Fittings are simple and standard blackened steel Willow Leaf tsuba design. Made to be a matching set for our Type 8 Iaito.
A basic sword with the standard weight, dimensions, strength, construction of a carbon steel katana and perfect for iai practices. Can also be used for stage and film purposes...
18" Delux Wakizashi Iaito

Sale Price: $159.99
Regular Price: $249.99

This is a matching wakizashi iaito for our 27" Delux Iaito. 18" blade length and 6.5" tsuka length.

(* Free shipping available for USA Shipments only)

Delux Wakizashi Iaito - 18 Inch blade length
IN STOCK NOW!