Delux 27", 28" & 29" Carbon Steel Iaito.
Name
Delux 1045 Unsharpened Carbon Steel Iaito
Blade
1045 Carbon Steel, Hand Polished, Unsharpened.
Treatment
Hand Heat Forged, Water Quenched
Finish
Tameshigiri Polish
Blade Length (Nagasa)
27", 28" or 29"
Weight (No Saya)
Approx. 2 lbs 3 oz to 2lbs 6 oz
Tsuba/Fuchi/Kashira
Blackened Steel Shura Tsuba Set
Balance Point
~6.5" Above Tsuba
Bo-Hi (Blood Groove)
Extended (past habaki and tsuba into the tsuka)
Tsuka/Ho
11" Wood
Tsuka Ito
Brown Cotton
Mekugi
Wood X 2
Same
Black Colored Real Ray Skin Panel Wrap
Saya
Black Glossy Lacquered Medium Hardwood
Seppa/Habaki
Brass
Edge
Not Sharpened
Please be patient - There are many pictures and may take some time to load - Please be patient
This is our delux varient of the 1045 Carbon steel iaito!! Difference between our standard (type 8) and the delux version is mainly in the tsuka and tsuba. Full details of the differences will be listed at the end of this page.
It is constructed in exactly the same way a carbon steel katana is... only blunted on the cutting edge. Hand forged, hand polished, full length nakago (tang), double mekugi (retaining pin). Perfect for those that want to practice kata using an iaito with the weight of a katana.
Here is the overall apparence of the sword. Sori, polish, weight... everything exactly the same as a standard katana.
Construction is identical to that of a real steel katana with double retaining pin. This is a 1045 carbon steel blade so maintanence is identical to that of a regular katana.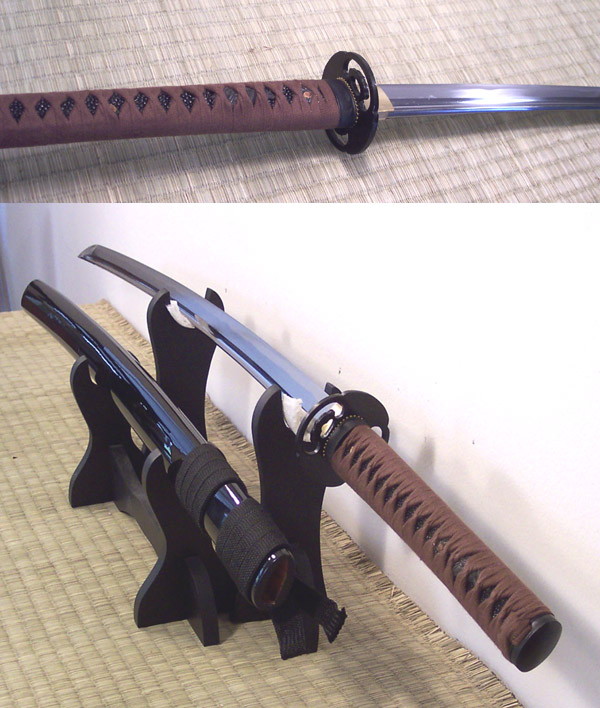 Blade geometry, bo-hi, and even the etched hamon resemble a standard katana. The last photo is a head on shot of the edge and is meant to illustrate the blunted edge. (Though blunted to reduce the risks of injuries, this sword can still be dangerous and should be handled as if it a live blade).
Fittings are simple and standard blackened steel. Tsuba is an elegant and very durable Shura tsuba.
Differences between the Type 8 Iaito (Classic) and the Delux version is in the tsuka and tsuba.
Uses black colored same skin and brown ito wrapping
Ito material has less stretch and a tighter feeling wrap
Tsuba is a stronger Shura Steel Tsuba instead of the alloy tsuba
A basic sword with the standard weight, dimensions, strength, construction of a carbon steel katana and perfect for iai practices. Can also be used for stage and film purposes...

Delux 1045 Carbon Steel Iaito - Available in 27", 28", and 29" Version
Sale Price: $189.99
Regular Price: $279.99
IN STOCK NOW!! (Free Shipping In USA)
Our Delux Carbon Steel Iaito is constructed of through hardened 1045 carbon steel as with our Type 8. The Delux version also uses a new tsuka core with harder wood and channels carved in for the same skin to be seated in... Thereby resulting in a more oval feeling grip. This version also uses black colored same skin and a new upgraded brown ito that has less stretch and a better feeling wrap.
(* Free shipping available for USA Shipments only)
Delux Carbon Steel Iaito - 27 Inch blade
IN STOCK NOW!
Delux Carbon Steel Iaito - 28 Inch blade
IN STOCK NOW!
Delux Carbon Steel Iaito - 29 Inch blade
IN STOCK NOW!