9260 Spring Steel (TH) Wakizashi in Shirasaya
Name
"9260 (TH) in Shirasaya
Blade
Through Hardened 9260 Silicon Alloy Carbon Spring Steel.
Overall Length (+ Saya)
30.25"
Treatment
Full Hand Forged, Through Tempered, Oil Quenched, Hand Polished
Finish
Tameshigiri Polish
Blade Dimension
21" Length, 0.3" Width, 1.25" Height
Sori (Curvature)
0.7"
Weight
Tsuba/Fuchi/Kashira
None
Balance Point
Tsuka/Ho
6.5" Wood
Tsuka Ito
None
Mekugi
2 X Wood (Double Pinned)
Same
None
Saya
23" Raw Hardwood
There are many pictures which may take some time to load. Please be patient.
This is a Cheness through hardened 9260 Silicon Alloy Spring Steel wakizashi blade (same as those on Tenchi and Shura) Housed in a shirasaya. Information on the unique blade itself can be found at either the Tenchi page or Shura Page.
Note: This sword does not come with sword bag or display box... The saya itself is the "disposable" protective container for the bare blade.
The Shirasaya (literal translation: "White scabbard") refers to a plain, unlacquered, wooden scabbard traditionally used as a basic long term holder for blades. The wood is kept raw intentionally to allow for the blade to "breath" through the scabbard. (Lacquering, painting, or varnishing a shirasaya would defeat the purpose).
We decided to house this blade in the shirasaya primarily as a storage and transport device for our bare blades (not as a functional mounting). However, the simple and sleek look of this sword also makes it a great display piece.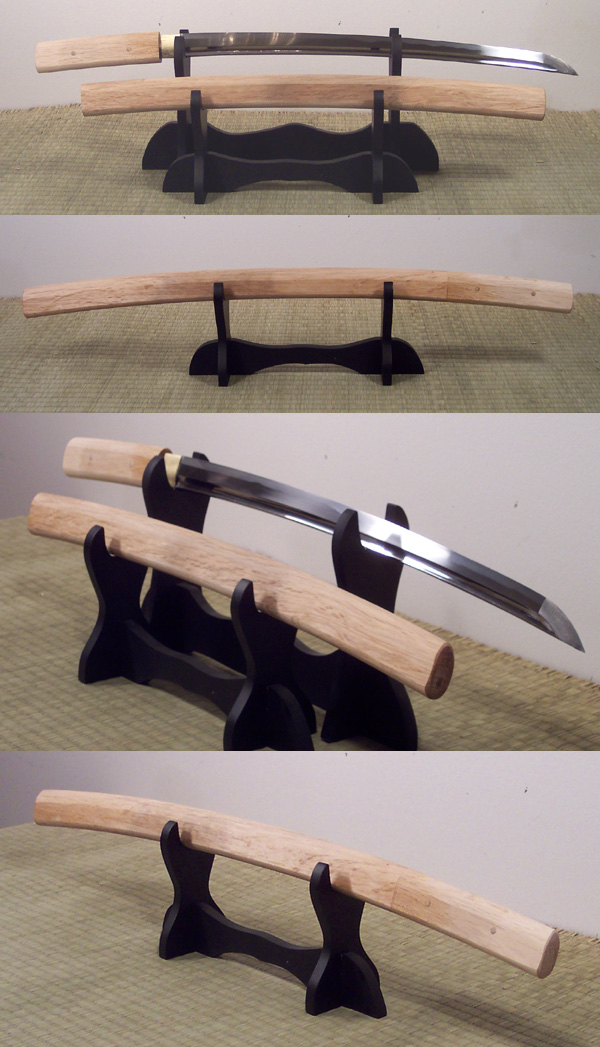 The cross section shape of the shirasaya is very different than that of a working saya. This sword exhibits extremely tight tolerance between the saya and the tsuka as well as between the tsuka and mekugi as it is mounted first, then finished as one-piece. The blade is double pinned.
The highly durable 9260 Spring Steel blade in the sleek and elegant shirasaya makes for a wonderful combination at an affordable price.
Although this sword is fully sharpened as is with our tameshigiri cutters, a blade mounted in the shirasaya is not intended to be used for cutting (unless you are a member of yakuza in old Japanese drama movies :p). The shirasaya does not have a tsuba (hand guard) to prevent the hand from sliding upwards towards the blade, nor does it have wrapped handle to provide traction. As such, we do not recommend cutting with this blade until it is properly mounted.
The raw wood used is open grained and very porous.. as such it would become dirty if handled with dirty hands. We suggest washing your hands or wearing gloves before handling this saya if used for display. The saya may also have absorbed some of the oils used to protect it from the elements during ocean transport, some of the oils will be visible from the exterior of the scabbard..
9260 Spring Steel Wakizashi housed in Shirasaya
Sale Price: $159.99
Regular Price: $349.99
In Stock
The same Cheness 9260 Spring Steel blade from the Tenchi and Shura, in a wakizashi length and housed in a shirasaya ("white" (plain) Scabbard). The shirasaya is raw natural wood with no finish (which prevents the scabbard from being able to "breath").
9260 in Shirasaya with Fuller (With Bo-hi)
In Stock