TRIAL RUN - 33" O-Katana
Name
33" O-Katana
Blade
9260 Silicon Alloy Carbon Spring Steel.
Overall Length (+ Saya)
47"
Treatment
Full Hand Forged, Through Hardened, Oil Quenched, Hand Polished
Finish
Tameshigiri Polish
Blade Dimension
33" Length, 0.3" Width, 1.25" Height
Sori (Curvature)
0.7"
Weight
3 lbs 9 oz
Tsuba/Fuchi/Kashira
Blackened Steel "Classic Crane" Tsuba
Balance Point
7" above tsuba
Tsuka/Ho
12" Wood
Tsuka Ito
Brown Cotton
Mekugi
1 X Wood, 1 X Brass (Double Pinned)
Same
Real Ray Skin Panel Wrap
Saya
35" Black Glossy Lacquered Medium Hardwood
---
There are many pictures and may take some time to load - Please be patient
This is a TRIAL RUN of our first 33" O-katana. The trial is intended to find out whether there are enough market for such a large blade to justify full production. (THIS MAY POSSIBLY BE THE ONLY PRODUCTION RUN OF THIS ITEM AND IS NOT A REGULAR INVENTORY ITEM).
The blade will ONLY be constructed of our through hardened 9260 Silicon Spring Steel. We wanted our longer sword to use only the more rugged material that can resist bending because of the additional weight/force exerted over the longer length. This is particularly important as the sword will only be available with bo-hi to keep the weight manageable.
The full weight of the sword is 3 lbs 9 oz (with saya) even with the bo-hi, and measures 34" from tsuba to kissaki and is a very very massive blade. Weight distribution makes this sword a very nice cutter, but the additional requires extra caution when using this sword (Its length allows the tip to contact the ground in natural standing position of most individuals). Fully sharpened for tameshigiri exercises.
Kissaki is made larger at a full 2 inches to maintain a better porportion with the overall blade. Handle is increased to 12" in length. Until we have determined whether to include this in our regular line or not, we have updated this sword with the blackened classic crane tsuba on this sword (Sorry photo is out of date. Will update with new photos.)
The handle is our most improved area from prior production of swords. Aside from the ito color being blue, the wood used for the tsuka has been upgraded to a harder material and two channels have been carved on the tsuka ho to seat the same. Also, the material used for the ito is a tighter weave of cotton and the wrap is much tighter than previous swords.
Because of the combination of channels on the tsuka ho and the tighter ito, the grip now feels more oval than the previously rounded and softer handle. (Those that has our previous version will notice this change right away).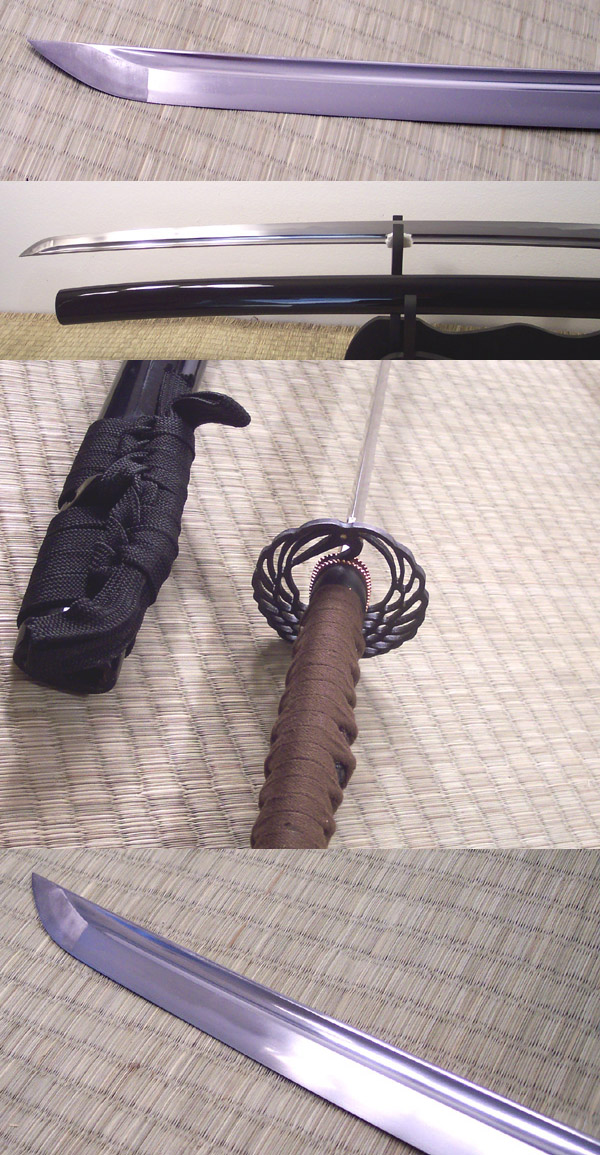 The following photos are some side-by-side comparison of the O-Katana next to our standard 29" iaito. It is intended to give you a better idea of the size in relation to what most people are accustomed to.
Even just as a display piece, the 33" O-Katana is an impressive piece.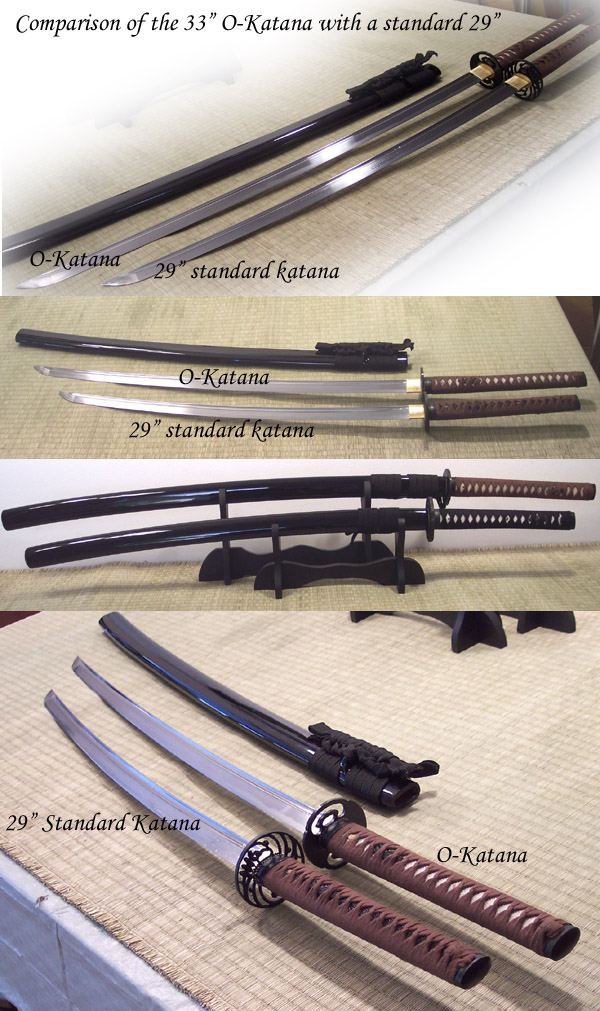 TRIAL RUN - 33 Inch O-Katana - 9260 Silicon Alloy Spring Steel
Sale Price: $319.99
Regular Price: $599.99

This is a trial run of our first O-Katana, in 33" 9260 spring steel. This blade is 5" longer and the handle is 1" longer than our standard 28" katana making this one VERY BIG sword. The trial run is to find out whether there is a market for such a sword or not. The sword is a heavy blade to handle, but cuts extremely well. Its length far exceeds those swords commonly used for iai so there needs to be additional care and special prior to using this blade.
33 Inch O-Katana (BLUE TSUKA ITO)
IN STOCK NOW!
33 Inch O-Katana (BROWN TSUKA ITO)
IN STOCK NOW!