Lightweight Un-sharpened Stainless Steel Iaito.
Name
Lightweight Unsharpened Stainless Steel Iaito
Blade
Tempered Stainless Steel, Mirror Polish, Unsharpened.
Treatment
Hand Heat Forged
Finish
Mirror Polish
Blade Length (Nagasa)
27", 28", or 29"
Weight (No Saya)
Approx. 1 lb 14 oz to 1 lb 15 oz
Tsuba/Fuchi/Kashira
Blackened Steel LI tsuba set
Balance Point
~4.5" Above Tsuba
Bo-Hi (Blood Groove)
Extended (past habaki and tsuba into the tsuka)
Tsuka/Ho
11" Wood
Tsuka Ito
Brown Cotton
Mekugi
1 Wood, 1 Brass
Same
Black Ray Skin Panel Wrap
Saya
Black Textured Medium Hardwood
Seppa/Habaki
Brass
Edge
Not Sharpened
Display/Gift Box
YES
Sword Bag
Yes - Cotton
Please be patient - There are many pictures and may take some time to load - Please be patient
This new iaito is designed to be very lightweight, so as to allow for extended periods of kata training without straining your arms. It captures the benefit of a zinc aluminum iaito blade, but does not have the drawback of zinc aluminum blades (which is extreme brittleness).
Most iaido practice sessions lasts around 2 hours. Though practice with a standard carbon steel iaito allows you to become familar with the weight of a standard cutting sword, to practice katas this long using a steel sword would be difficult for most people. Hence, the need for a lightweight iaito.
Here is the overall apparence of the sword.
The light feel of this iaito is achieved mostly via
1. a thinning of the blade,
2. increased taper, and
3. a re-distribution of mass to achieve a new POB (Point of Balance).
This sword resting in its saya weighs about the same as a regular katana out of the saya. Because the lightweight feature of this blade is achieved via taper and thinning of the blade, the bo-hi cannot be cut as deeply as a standard iaito, resulting in a diminished tachikaze when compared to a standard carbon steel or zinc aluminum iaitos.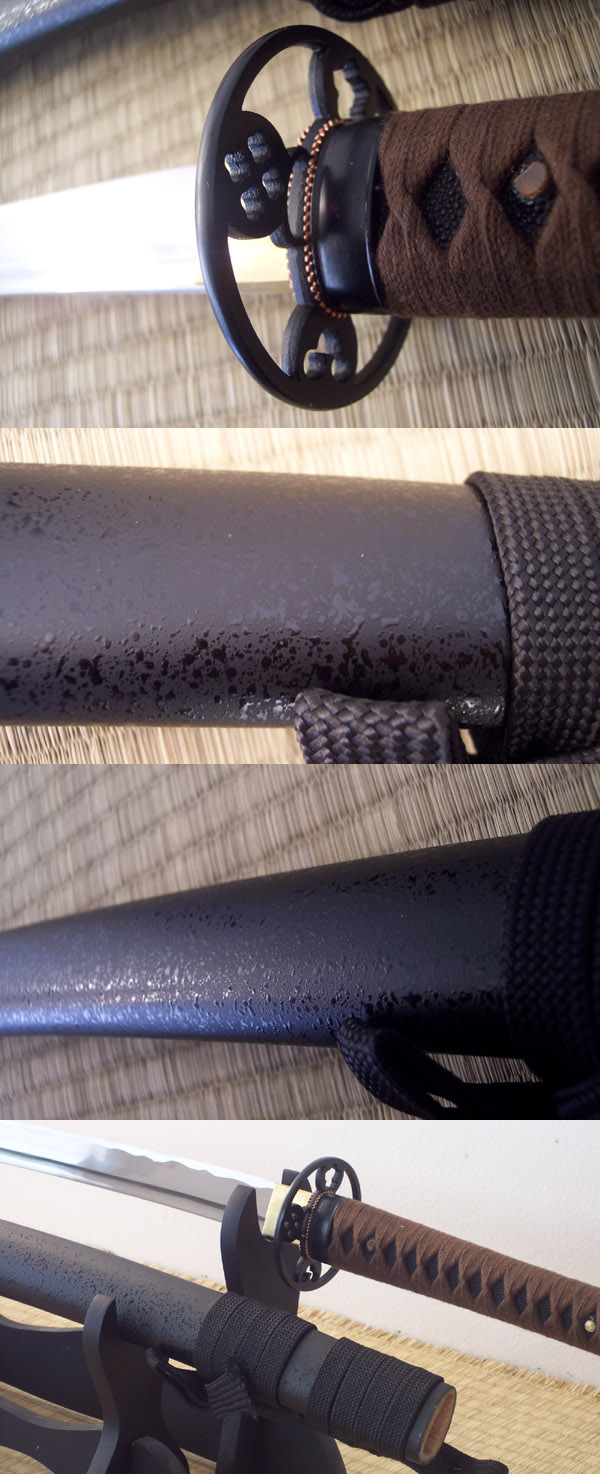 The blade is constructed of tempered stainless steel so does not require the maintanence of a carbon steel blade.
The new textured finish of the saya also makes the scratches, scuffs, and dents to the saya (typically sustained during practice sessions) less apparent.
Because of the new geometry, new hardwares are required. In addition to the new tsuba, this sword also uses a custom sized habaki to accomodate the narrower blade.
Tsuka is the same as our delux iaito, which uses a black ray skin panel wrap with brown tsuka ito. 2 mekugi pins (1 bamboo, 1 brass).
Customized sword perfect for extended periods of iai practices. Can also be used for stage and film...
Lightweight Stainless Iaito - Available in 27", 28", and 29" Version

Sale Price: $199.99
Regular Price: $299.99

IN STOCK NOW!! (Free Shipping In USA)

The new Lightweight Iaito is designed to have the same weight benefit as a zinc aluminum iaito, but without the drawback of brittleness. This sword is ideal for extended periods of kata practice while minimizing the strain on your arm. New textured saya also minimizes apparence of scuffs, scratches, and dents typically sustained during practices.

(* Free shipping available for USA Shipments only)

Lightweight Iaito - 27 Inch blade length
IN STOCK NOW!
Lightweight Iaito - 28 Inch blade length
IN STOCK NOW!
Lightweight Iaito - 29 Inch blade length
IN STOCK NOW!