Type 5 - "Kochou"
Name
"Kochou" (Butterfly)
Blade
Forge Folded Carbon Steel. (Dual Folded Pattern Welded Steel)
Overall Length (+ Saya)
42.5"
Treatment
Hand Heat Forge Folded, Oil Quenched
Finish
Tameshigiri Polish
Blade Dimension
28" Length, 0.3" Width, 1.25" Height
Sori (Curvature)
0.7"
Weight
2 lbs 6 oz (with fuller), 2 lbs 11 oz (without fuller)
Tsuba
Antiqued Copper Custom Tsuba Circular "Kochou" 3.5"diameter
Balance Point
5" above tsuba (with fuller), 6" above tsuba (without fuller)
Tsuka/Ho
11" Wood
Tsuka Ito
Black Cotton
Mekugi
2 X Wood (Double Pinned)
Same
Real Ray Skin Panel Wrap
Saya
30.5" Black Glossy Lacquered Medium Hardwood
There are many pictures and may take some time to load - Please be patient
This is a dual forge folded carbon steel katana (pattern welded). It is constructed by layering two different monosteel billet, forged and folded 6 to 7 times to generate a Damascus appearance. The blade is finished with a custom brass tsuba and an 11" tsuka (grip).
This first picture shows the general apparence of the sword in its simple fittings and tsuba. Standard sori and bo-hi. This sword is created with the intent as a display piece but is sharpened and finished as a cutter.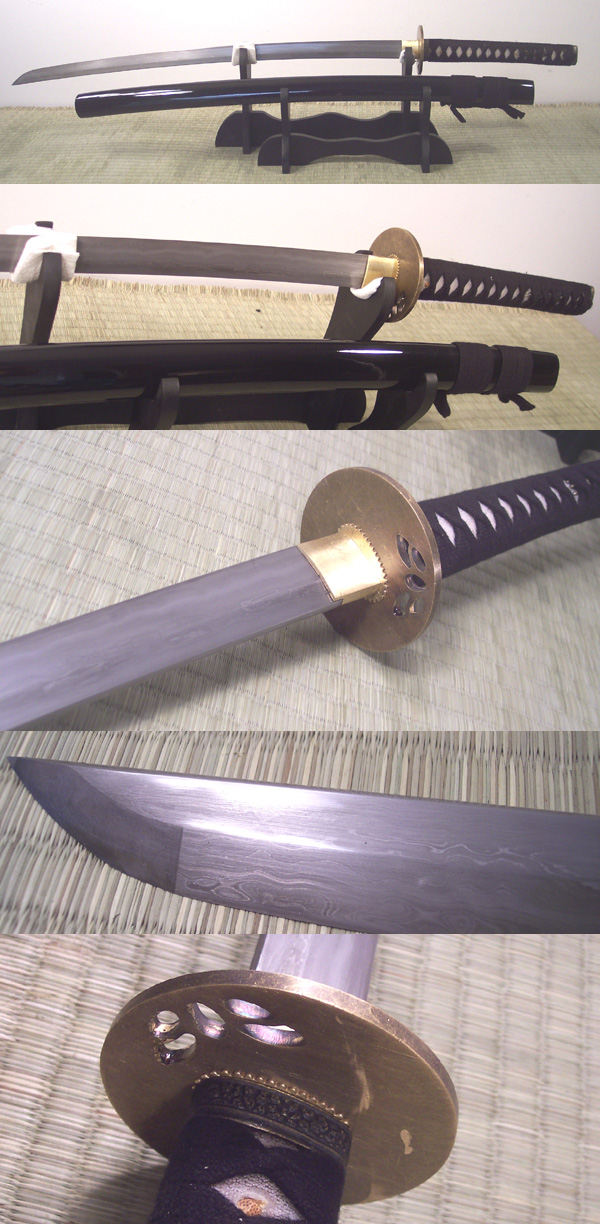 What makes this sword interesting is the visible hada (grain) resulting from the dual folded steel. This method of construction results in a "Damascus" apparence on the blade. I have included several pictures at different angles. This blade will be more of a "show piece" rather than a cutter. The dual folded steel construction is not intended to homogenize the metal, but to generate the attractive apparence. The steel will be no harder than the carbon monosteel contentent of the billets used. For a cutter, we recommend our 1060 or 9260 through hardened blade.

The nakago (tang) and tsuka (grip). The grip uses 2 mekugi (retaining pin) and is the standard 11" in length. Blade thickness at habaki is 0.3".
This sword is an excellent presentation piece. Great for presents and collectors wanting a unique display piece. Can be used for light cutting, though we recommend it be treated mainly as a display sword. (we rather that you get a cheaper monosteel blade without lamination as a cutter.) Comes with display box and cotton sword bag.

Type 5 Katana - Folded Steel "Kochou"
Sale Price: $229.99
Regular Price: $399.99
Our Type 5 blade employs a dual folded steel construction resulting in a Damascus surface pattern on the face of the blade. This is a true folded steel katana that is ideal for display and sharp enough for cutting.
Kochou With Fuller (With Bo-hi)
Sold Out - Discontinued
Kochou Without Fuller (No Bo-hi)
Sold Out - Discontinued